Blecon enables your physical products and sensors to be identified, located and
to communicate with cloud applications using Bluetooth Low Energy
Bluetooth Low Energy
Bluetooth Low Energy (BLE) is a wireless technology unrivalled in adoption and economies of scale. It already powers billions of the world's low-cost wireless devices and tracking beacons and is supported in every phone and laptop.
Blecon builds on this by leveraging Bluetooth Low Energy to locate and connect products and sensors to cloud applications.
Secure data channel to any cloud service

Deploy Hotspots with smartphones, laptops and gateways

Devices can use any Hotspot without pairing

Library SDK and Chip Firmware for fast integration
Blecon Network
Product identity, location and data to your server

ID, Location & Data
The Blecon Network provides secure identity and bi-directional cloud communication along with geolocation and time services.
Requests are routed to your application through any nearby Blecon Hotspot, without pairing.
Network Integration
Blecon is designed for integration.
A device message or request triggers HTTP(S) JSON requests to your cloud endpoints.
How you respond, store and work with your data is up to you.

Data Channels
Blecon enables devices to operate as clients, making requests and sending messages on different channels to your backend services.
e.g. Product Analytics, Marketing Insights, Sensor Telematics or Engineering Diagnostics.
Blecon Hotspots
Deploy coverage without configuration or pairing

Mobile Hotspots
iOS and Android devices can be enabled as Blecon Hotspots by installing a free App, and will function in the background.

Desktop Hotspots
MacOS and Windows computers can be enabled as Blecon Hotspots with a free App, and don't require any account or configuration.

Hardware Hotspots
Dedicated hardware enables Blecon coverage to be deployed in specific locations, optimised for low cost and high performance.
Blecon Firmware
Enable products using standard BLE chips

Blecon Chips
The Blecon firmware images enable off-the-shelf BLE chips and modules with Blecon, providing a simple UART API.

Blecon SDK
With the Blecon SDK, any MCU using Zephyr or other embedded frameworks can have support for the Blecon Network.

OEM Devices
Our OEM partners are enabling generic sensors with Blecon firmware, making off-the-shelf low-cost hardware readily available for many applications.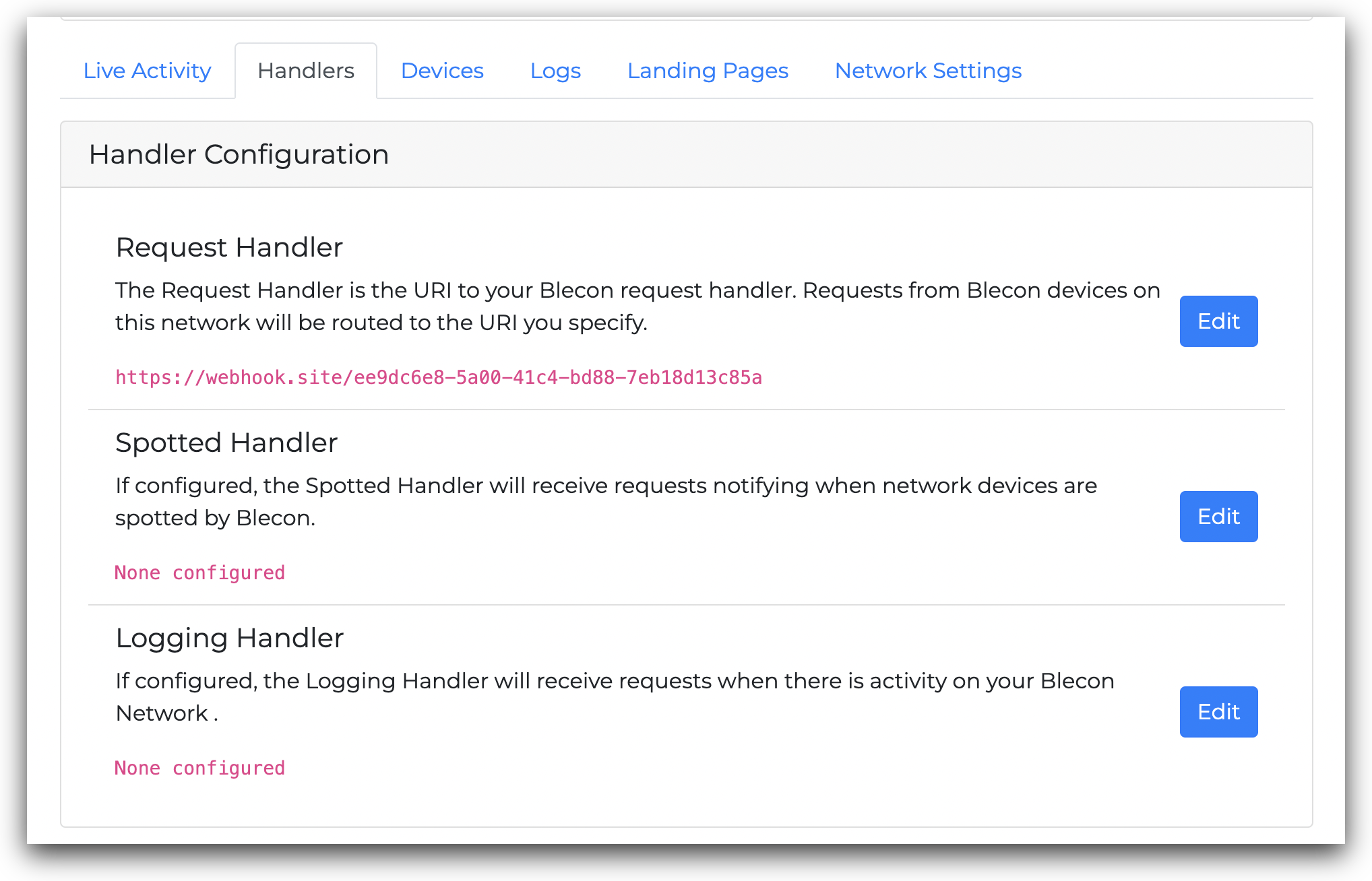 Getting Started
Sign-up to create a Blecon Network.
Connecting it to a web backend is beautifully simple.
You can integrate Blecon support in products using the Blecon Chip firmware and SDK.
In addition, off-the-shelf Blecon-enabled
OEM sensor devices are available.
Unlock the potential of BLE
Low-cost Data
With Blecon, BLE is unlocked for cloud connection. Requests from products and sensors are delivered transparently via nearby mobile and dedicated hotspots to your cloud service, and are encrypted and signed for authenticity.
Enable Innovation
Blecon provides the foundation for innovative cloud data solutions and is designed for integration, allowing rapid development and iteration that gets results.
Simple Production
Avoid manufacturing complexity with a security model designed for production. With Blecon, device security is solved and configuration is eliminated.