Accelerometer-based event logger

Pushes data to server with Blecon

Tiny (38mm x 38mm x 6mm)

Waterproof

Rechargeable

<$10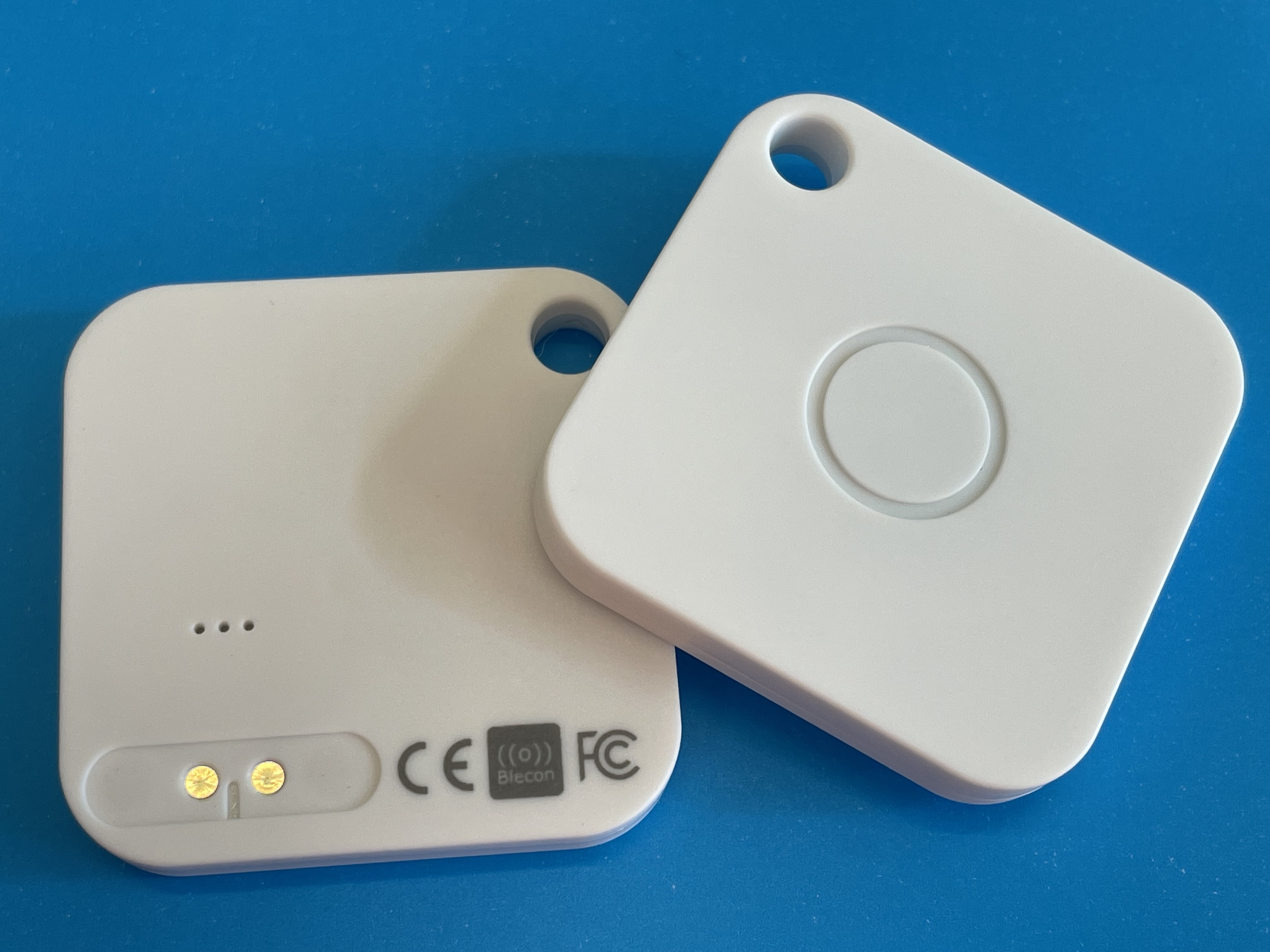 The B1 Analytics Tag from KKM uses an accelerometer to capture timestamped motion events, and the Blecon network to push the data to your web backend whenever enabled phones are nearby.
This means you can quickly integrate and deploy applications using physical analytics devices.
Fleets of phones as your infrastructure
Blecon enables staff phones to be infrastructure for sensor devices - think AirTags but for data, and to your own backend.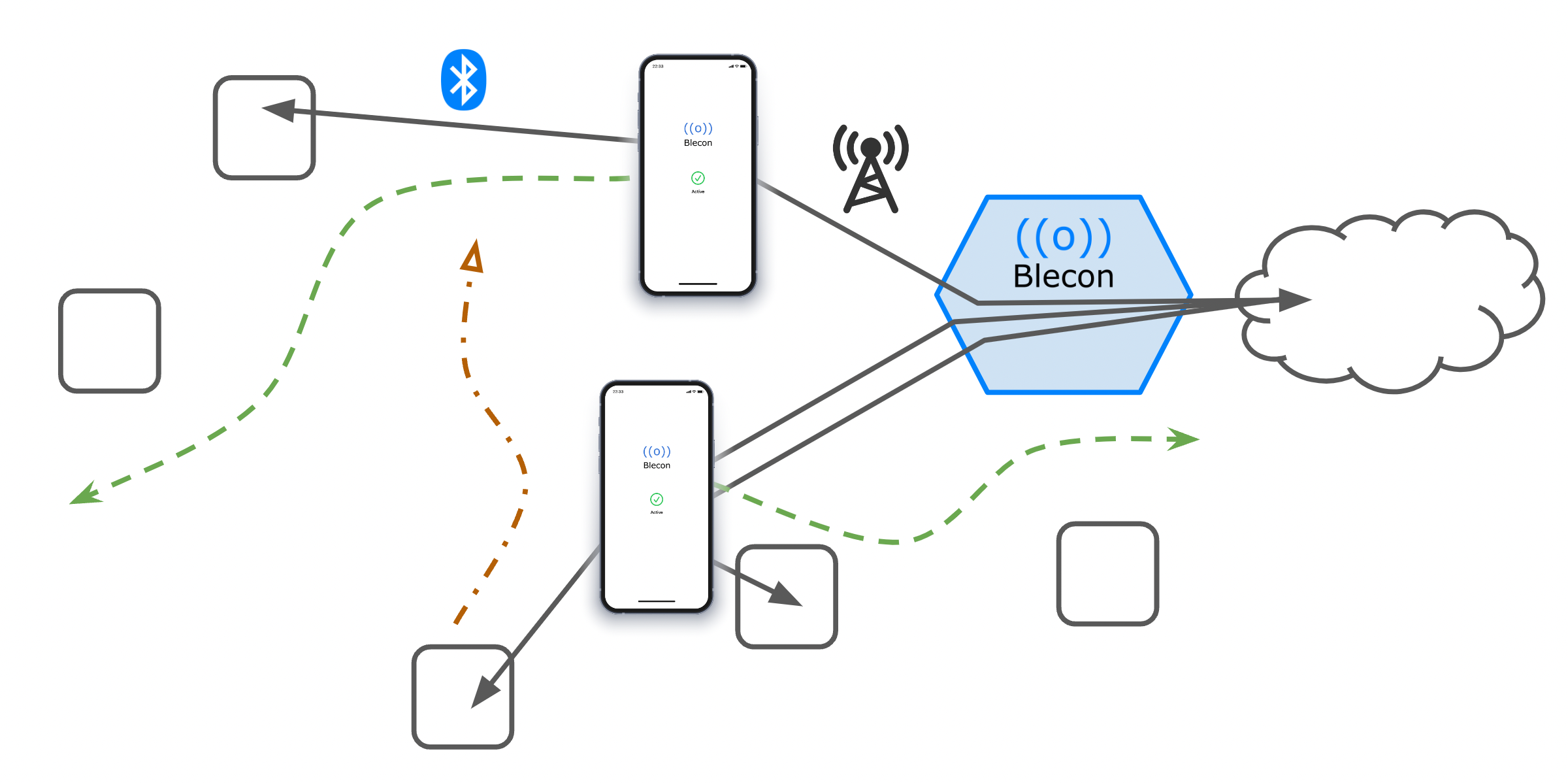 Low-cost sensors can log data, and then push it to your server when they have connectivity - with Blecon, both the sensors and the access points can be mobile, giving really interesting ways of easily deploying coverage to different types of sites.
Because the sensors are based on Bluetooth and the infrastructure is already paid for and out there, it means deploying a system can become a very fast and low cost operation.
Built for Developers
Blecon devices are built for integration into your web products.
We don't store data, show dashboards, or get in the way of your development. We do all it takes to get the data to your backend, and stop there.
Configure a network to point at your servers, and the device requests start flowing in - so you can do what you need using the languages and tools you want.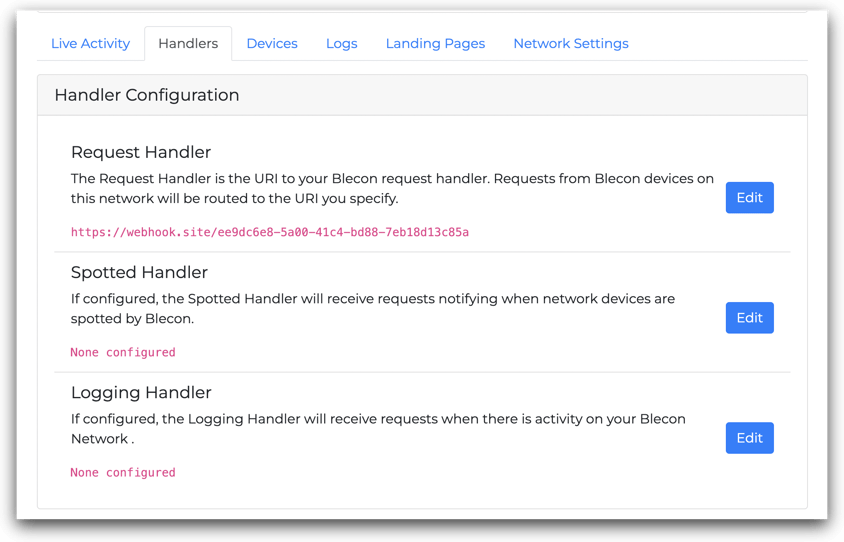 Simply enter the URL you want the stream of device requests to be sent and the rest is in your control.
The Analytics Tag records timestamped motion events, and then occasionally pushes them to your backend whenever phones are nearby. It arrives as geo-tagged JSON with the history of all events since the last push: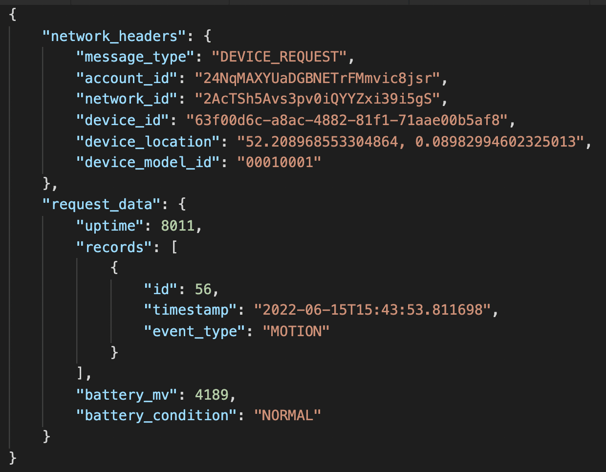 That means you can use whatever web languages, frameworks and infrastructure you like to store, process and present activity data.
There are more details to how it works in the Blecon documentation resources.
How can it be used?
The B1 Analytics Tag is based on an accelerometer, so is surprisingly flexible. You can use it to infer things based on both motion events and orientation.
Here are the sort of applications we are talking to people about:
Tool usage tracking - when and how long are tools being used?
Occupancy detection - attached to chairs
Logging spirit level or angle measurement
Usage counter - when is something being used, moved, pulled, hit, turned, ...
State monitoring - when is something open or closed, active or not, ...
We're always interested in new use cases and questions, so you can always reach out to us at support@blecon.net
Built by KKM, enabled by Blecon
The B1 Analytics Tag is made by KKM, a specialist Bluetooth OEM based in Shenzhen, and enabled by the Blecon Network.

The B1 is supplied as an OEM unbranded device straight from the factory, so can be used as part of your own product. It needs no customisation in the factory to use with your service, so you benefit from economies of scale and fast availability.
KKM's experience and scale allow them to produce this tag at high volume and low cost, whilst Blecon provides the service infrastructure to enable quick integration and deployment as part of your own product.
Request a free sample!
You can apply for a sample B1 Analytics Tag here
Other things you might want to know
Blecon does not store your data or interfere with your product - devices are clients, posting requests to your backend
Device attestation, identification, registration and data encryption are all solved
Custom device registration workflows can be handled by your own service/UI
Blecon is being built in to other OEM devices, and can be built in to your own hardware - email support@blecon.net
To get a more in depth view of Blecon, you can follow our Blecon Fundamentals learning series over on Blecon Docs.
Getting started
Got an Analytics Tag device? Then here is a Getting Started guide!